By Nina Atwood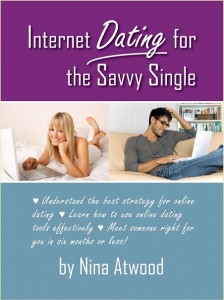 Download Internet Dating for the Savvy Single for the†low price of†$0.99.
Summer†is wedding season and millions of happy brides are finalizing details for their special day. How did these women meet that special guy who popped the question and put a ring on it? It may surprise you to know that one out of five of these couples met on the internet! Internet dating is now approaching one billion dollars in annual revenue. As I'm writing this, tens of thousands of couples who met on the internet are deciding to marry! If you don't know someone who is happily married who met his or her soul mate online, you will. I personally know half a dozen happily married couples who met through an internet-based dating site.
So why aren't you jumping on this bandwagon? Why aren't you surfing your way to love right now? Odds are you've tried internet dating and didn't get the results you wanted, or you decided not to try based on the bad stories you've heard. He wasn't all he seemed to be. He/she was married, a drug addict, a sex addict, a commitment-phobe, a liar, a gold-digger, or a player.
Yes, there are bad stories about online dating. And there are bad stories about meeting people at bars. And bad stories about meeting them at work, at Church, through friends. Bad relationship stories abound because of the dynamics of relationships, not because of where or how the couple met.
Internet dating is a tool that can be used to meet people, no more and no less. And it's an incredibly efficient tool. You can find people to date while sitting at your laptop in the privacy of your own home. It is a powerful tool, but you must know how to use it wisely. Here are my top five strategies you should employ before you go online to find your soul mate.
1. Invest your money. Signing up for free dating sites puts you squarely in the passive role where you have no choice but to wait and hope that one of the thousands of people surfing through the site finds you. The competition is fierce on dating sites and you will be overlooked. It doesn't cost much to get a paying membership and it is well worth it. Then, you can look for people who interest you and reach out to them, giving you a greater sense of control over your own destiny.
2. Invest your time. It takes a few hours per week, but if you were hoping to meet someone in face time, you would have to invest multiples of those hours in order to attend enough events to meet a quality person who is not already taken. It's well worth the time, and you can multi-task since you are sitting there in your own home.
3. Assume nothing about compatibility or character, no matter what the sites tell you. You have to do your own "due diligence"Ě as you meet people. Even matchmaking sites that purport to do the screening for you don't get it right on the whole. Nothing substitutes for taking your time getting to know someone slowly, by asking the right kinds of questions. Background checks are essential. Nothing substitutes for meeting in person and relying on good old gut feel.
4. Move from online to real time sooner rather than later. Almost all of the scams that take place on the internet are fueled by spending loads of time online communicating with someone who you are unable to check out. Red flags include receiving tons of romantic emails, poetry, declarations of love, and promises of marriage from someone you haven't even met. The U.S. State Department in its warnings of internet scams pinpoints the issue: idealizing potential mates that you meet on the internet. That happens when you spend far too many hours, days, and weeks communicating over email or telephone instead of insisting on a face-to-face.
The scammers scram when you refuse to be swept up in online romancing. Additionally, when you do meet someone for the first time, sometimes you find that the chemistry you felt on the phone evaporates in real time. Better to find that out sooner rather than later so that you don't drown in guilt because now you must reject the person you've been talking to every night for weeks.
5. Date more than one person at a time. You can be like the Bachelorette when you date online and that is an advantage. But here's the way it works: only for a handful of dates, and no sex with any of your Bachelors or Bachelorettes. That way you don't get too attached and you don't burn other people by being a player. What works is a handful of dates with two or three guys at a time during which you carefully explore the important issues: chemistry, character, and how much he or she is into you. By the fifth date you should be narrowing down to one stand-out guy or woman. The benefit is the sense of abundance you feel which frees you to be more selective and far less emotionally desperate.
The bottom line is this: if you use internet dating wisely and efficiently, there is no reason you can't be happily in love in six months or less! For all my step-by-step coaching on how to use internet dating the right way, safely, get Internet Dating for the Savvy Single, available as a Kindle book for only $0.99. (You can download the Kindle app here for your iPad)
Download Internet Dating for the Savvy Single for the low price of†only $0.99!
Entry Filed under: Advice for Men,Advice for Women,Dating,Relationships