By Nina Atwood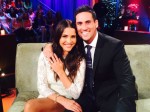 This season's The Bachelorette had a few twists and turns, notably the dumping of Nick on the day of the final rose ceremony. I turned to my husband about a third of the way through Monday night's show and said, "she's going to choose Josh, and here's why . . ." Nick gave it all away in his final comments and actions leading up to the last day of the season. There are great relationship take-aways from this season's show, and they all point to the top three reasons why Andi chose Josh. They might very well be YOUR top three reasons for going forward in a relationship.
1. The compatibility factor. Andi wisely recognized that – chemistry aside – she needs to be with someone who shares her interests in life, someone with whom she can be her entire self, including that famous "stop!" and frown. Josh is the total package in many ways, but one of the most compelling is that they have fun together, enjoy the same things. It's not all about the romance, though there's plenty of that. Nick, on the other hand, offered loads of "passion," but not much in the way of common interests and life pathway.
Romance should be hot and heavy in the beginning of a relationship, but age, children, the stresses of careers, and life's ups and downs tend to strip away those early passionate emotions. Passion, after all, is a hot emotion – by its nature, it flames up but inevitably sizzles down, unable to sustain itself day to day. Love, on the other hand, the kind that lasts a lifetime, is a warm emotion. By its nature, it hums in the background of life, often expressing itself as deep friendship, compassion, and care. Happily married couples often declare that their spouse isátheir "best friend."
2. The character factor. Josh demonstrated his character when he confessed to Andi that he quit professional baseball because he realized that there were things in life that were more important than the lifeáavailable ináprofessional sports. He looked ahead and saw himself on the road, presented with far too many opportunities to engage in casual sex – not a life path for the devoted family man he aspired to be. Way to go Josh!
Nick unfortunately showed his true colors when he outed Andi on national television for having sex with him. Yes, he was hurting, and we can all be compassionate about that, but ultimately what he showed was that his own hurt feelings trumped any care he might have felt for Andi. He threw her under the bus, and in so doing, proved the point of why she dumped him.
3. The confidence factor. This is the area in which Josh showed up like a real champion. Even though Andi expressed grave concerns that he mightáturn out to be like the "player" athletes she'd dated in the past, he steadfastly reassured her. Even though she almost pulled away a couple of times, that only drew him in more. He could have pulled away as well, as an insecure guy might do. But he showered her with emotional confidence every step of the way, never once faltering in his devotion to her and love for her. That is sexy!
Nick, on the other hand, revealed his insecurities every step of the way. He had difficulty making eye contact, he over analyzed their relationship, and he repeatedly put the emotional burden on Andi to reassure him. The final bomb was theirálong finaláconversation in which he searched for a sign that he was "the one," making it clear that he needed her reassurance one last time before he could step up to the plate and propose the next day.
Andi picked Josh wisely, and I'm going to predict that theirs will be a lasting marriage because she zeroed in on the top three factors that make a great marriage: character, compatibility, and [the guy's] emotional confidence. These factors obviously work two ways, so guys, if you're not able to dish out the level of devotion that Josh does with Andi, maybe you're settling for less. It may be time to up your game and learn how to Date Like a CEO!
Entry Filed under: Advice for Men,Advice for Women,Celebrity Buzz,Dating,Relationships