By Nina Atwood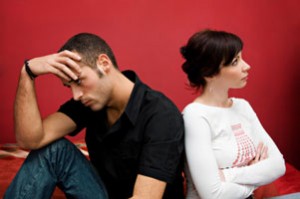 In every breakup there are two roles: the Dumper and the Dumpee. Put it another way, the person who actually says "I'm outta here" and the person who is left behind. Sometimes we try to save face by agreeing that yes, it's over, when the other person says they're leaving. But almost always there is one person who is the first to throw in the towel emotionally. That person usually faces one set of emotions while the other person usually faces a different set of emotions.
If you threw in the towel first, you are more likely to experience guilt. Dumpers often spend weeks or months agonizing over the decision, weighing the good and the bad in the relationship. Sometimes Dumpers act spontaneously, as in the last-straw syndrome. In that scenario, a random negative act on the part of the other person tips the scales over to "that's it, I've had enough, and I'm leaving." Almost anything will do so the Dumper can justify leaving.
What Dumpers usually fail to do is communicate clearly what they need, not just once but many times, giving the Dumpee a chance to right the wrongs before deciding to leave. Dumpers usually convey some level of dissatisfaction but without clearly stating that they are considering breaking up. Thus, Dumpees don't get the seriousness of the issues and are often shocked when the breakup happens, saying they didn't see it coming. Dumpees often feel blind-sided by their mates.
Why do Dumpers fail to fully communicate? Often it's a case of not really wanting the relationship, not feeling in love, or feeling that something vital is missing, yet not having the courage to express those feelings. Instead, the Dumper tends to catalog the Dumpee's negative attitudes and behaviors over time, gradually building justification for a breakup. The end game is the tipping-point last-straw incident.
The guilt is usually because of a deep-down awareness that you didn't treat the other person fairly (via open honest communication with a desire to work through issues) or an awareness that you settled from the beginning – again cheating the other person out of a good relationship. Sometimes Dumpers feel guilty because of an inappropriate sense of responsibility for the Dumpee's grief, not realizing that when you don't really love someone, you are giving them a gift by moving on.
If you are the person left behind, you are more likely to experience a sense of abandonment, usually followed by resentment. As the Dumpee, you feel cheated out of the experience of a real relationship with a solid commitment.
Whether you are the Dumper or the Dumpee, you have emotional baggage to resolve before you can powerfully move on. See Dumpers and Dumpees: Part Two for tips on how to powerfully resolve your past relationships.
Entry Filed under: Advice for Men,Advice for Women,Breaking Up,Dating,Divorce,Relationships