By Nina Atwood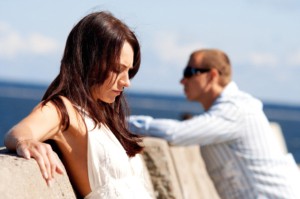 When should you start dating again? The answer is, of course, it depends. It depends on how much emotional baggage you want to drag forward into your new relationship. The more baggage you have (steamer trunks vs. carry on), the less likely you are to have a loving, lasting relationship in the future.
If you are the Dumper, your baggage is more likely to be in the form of unresolved guilt and either over or under-responsibility. Because leaving can be so hard, some people emotionally shut down or cut off real communication in order to move forward. This coping mechanism, while it may have served you to some degree, won't help in your new relationship. The path of recovery as the Dumper is to take responsibility for your past choices and actions without beating yourself up. Acknowledge to yourself that you made certain choices and acted in certain ways based on your degree of self- and other-awareness at the time. Forgive yourself and gain the lessons. Commit to yourself to maintain the self-awareness that you need so that you can authentically express yourself every step of the way in any new relationship.
If you are the Dumpee, your path is in taking responsibility for your contribution to the relationship issues that prompted your lover to leave. You may not be ready to take this perspective, at least not until you are past the most intense part of the grief. But as you move forward, empower yourself by objectively examining your role in the relationship. This is crucial so that you can move out of the posture of victim and into the posture of personal accountability. In a new relationship you can then choose new behaviors so that you are more likely to gain and maintain the love that you want.
Entry Filed under: Advice for Men,Advice for Women,Breaking Up,Dating,Divorce,Relationships