By Nina Atwood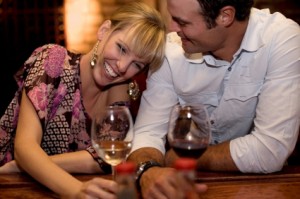 You're on a date and it's time to order a beverage. Should you order alcohol? The answer is: it depends – on which date it is and on your personal goals for a relationship. Alcohol fosters illusion and false chemistry, and that can lead to falling into some of the worst temptations. Having a drink or two with your date should be enjoyable, fun, and never dangerous. It pays to know when to say "yes" to alcohol and when to say "no." Listen to this podcast for the four dating and drinking etiquette rules that will help you stay on the right path to a great relationship.
Click on the arrow below to listen now, or download and listen to this podcast later.
Audio clip: Adobe Flash Player (version 9 or above) is required to play this audio clip. Download the latest version here. You also need to have JavaScript enabled in your browser.
You can download this podcast as an MP3 file: Right click on "Listen Now," choose "save target as" and save it to your music folder on your computer. Sync with your MP3 player or iPod, and listen to Nina Atwood, the Singlescoach®, anytime!
Entry Filed under: Advice for Men,Advice for Women,Dating,Podcasts,Relationships