By Nina Atwood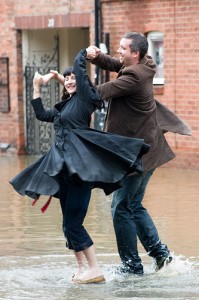 Dear Nina: I am a 40-something male who has never married or been in a committed relationship. When I ask why all my friends married and I didn't, all I can think of is that in some sense, I never learned how to pursue a woman. I'm used to being a loner. The desire is there to have a soulmate, but I'm not in the situations to meet attractive, available people and I fear I didn't learn the skills or get the experiences I should have gotten 20+ years earlier. But I'm turned off by overly aggressive women who come on way too fast as well. But being in any situation where I'm having to lead others, especially women, feels awkward like having to use my left hand in everything. Any thoughts? – Randall
Dear Randall: I've heard similar stories from other men, so you are not alone. You are in a catch-22: you're inexperienced in the art of pursuit, but uncomfortable with women who might pursue you, so a relationship is unlikely to occur unless you change the paradigm on one side or the other. Which is worst to you at this point? The thought of having to learn how to pursue, or the thought of letting a woman pursue? Whichever scenario you choose, you will need to develop some new "emotional muscles."
Just like your body that needs regular activity to stay in shape, your emotions also need regular workouts in order to be healthy. The only way to do that is to practice. The question is: where can you practice? You need a safe arena in which to practice the art of pursuit without undue pressure or fear of rejection. One place where I've seen men develop lots of confidence is learning ballroom dancing. Dance is a place where you experience "safe touch" – dance for the sport of it, not for romance. Also, ballroom dance requires that you learn how to lead, and as your body develops the muscle memory of leading in the dance (remember, a safe place where you won't be rejected), your emotions will also learn and develop.
The art of pursuit is a vital skill for men to learn at some point. Women are wired to love being pursued, and men are wired to do it, so when you try to bypass that paradigm, you get relationships that are not satisfying to either party. Studies show that one of the least happy marital dynamics is the one in which the woman leads (resentfully) and the man follows (resentfully). Yes, there are those extremely rare marriages in which the woman leads and both partners like it that way. Leadership, not control, is the name of the game, and it is typically the most comfortable role for the man.
Let me be very clear for women reading this post: the woman's role of following in the relationship dance is NOT a passive role. It is very active and requires a strong sense of who you are and what you want, as well as the ability to push back firmly when warranted. When he leads (calls, initiaties, sets up dates, etc.) and she follows (overjoyed that he called, "yes!"), with maybe a bit of steering now and then ("no, I'm not ready for sex; not until we have a committed relationship") it tends to work for everyone.
Entry Filed under: Advice for Men,Dating,Relationships