By Nina Atwood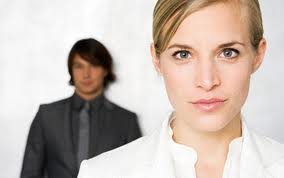 Dear Nina: I listen to your podcasts and I have read and refer back to Temptations of the Single Girl quite a bit! I became acquainted with a man at my new gym. He happened to be an employee there, selected to evaluate me for a personal fitness consultation. However instead of asking me questions pertaining to my health and fitness I was being interrogated with questions about my relationship status, my career/life choices, and travels. Felt like a date. Long story short I could feel an instant attraction and I could feel it was mutual. Upon returning for another personal training session a few days later I could still feel the sparks flying. In a situation like this, is it safe to say he should make a move to set up a date if he's interested? Personally I prefer men make the first move, although the alpha female in me wants to take things into her own hands. But I feel like I miss out on opportunities in doing so. What do you think? Am I being too passive? – Michelle
Dear Michelle: No, you 're not being too passive. You are smack in the middle of the Temptation to Take the Lead!
Wanting a guy to make the first move serves a couple of good purposes. Men are wired for pursuit, so when a guy has to chase after someone he wants, he wants her more, not less. Over time, this clarifies for him how he feels so that he either moves on because he's not that into her, or he becomes more devoted and in love. The typical guy doesn't obsess and worry about whether or not she's into him. Her excitement when he calls and goes to see her, her physical displays of affection, and her emotional availability are more than enough.
Women are wired to love being pursued, so when he chases after you, it affirms your emotional security with him. The flip scenario is when the alpha female makes the first move. That sets her up to wonder how much he is into her, something about which a woman will endlessly obsess with her friends. Over time, that turns into worsening emotional insecurity. Then the clinging behavior starts, that turns him off, and the budding relationship typically crashes and burns.
Remember this: If he's into you, he will pursue! There are two exceptions to that rule. One is the guy who is so passive (read: insecure) by nature that he will hold back on pursuing hoping that she will take the risk for him by making the first (and second, third, fourth, etc.) move. The problem is that if you're an alpha female, you will be very dissatisfied with the passive guy a few years down the road when he fails to initate dates or sex.
The other exception is the guy who is so attractive that he has women constantly making the moves so he doesn't have to. He's the lazy, cocky guy who is a poor gamble for a relationship. He will expect you to do all the heavy lifting emotionally while he sits back and enjoys it while it's good, then takes off for greener pastures when you make emotional demands of him.
What works is the good guy who knows what he wants and goes after her. He calls, he asks you out, he pursues wholeheartedly. He's emotionally available and he wants YOU. Would he initially love it if you made the first move? Probably. But then he wouldn't. And you would hate it. No one wins when the alpha female pursues.
Bottom line: you have everything to gain and nothing to lose by letting him make the first moves. But there's one more issue in the story you've told. I'm wondering why this guy who is supposed to be your trainer is "hitting on you." Is he a guy who hits on women in the gym, using his job to choose his next sexual conquest? Or is he a good guy who is genuinely attracted to you but reluctant to make the first move because you're a client? Here's the real opportunity for you: to clarify his intentions so you can either move on or move forward. A suggested script for that might be this one.
"Thanks for helping me get started with my fitness evaluation; I appreciate your help! However, I couldn't help notice that there seems to be a bit of flirting going on here. Am I imagining that, or are you feeling that as well?" If he says you're imagining it, then ask him to please focus on your fitness process instead of asking so many personal questions (good boundaries).
But if he indicates that he is feeling that attraction then say something along these lines. "Well, I'm glad to hear I'm not just making it up. But if you're interested, please call me later and ask me out; here's my cell phone number." Then let it go and re-focus on your workout. If he calls and asks you out and you hit it off, ask for a new trainer; otherwise it will be awkward. If he doesn't call and ask you out, it will be awkward as well, so be ready to request a new trainer.
There is one other option here. Just do nothing. Re-direct the personal questions, focus on your workout, and let it go. If he's really into you, he'll figure out what to do and he will take action. If he's not into you, or if he is but he's not available, then you're still better off because you didn't take the lead.
Entry Filed under: Advice for Women,Dating,Relationships